RESEARCH SPOTLIGHT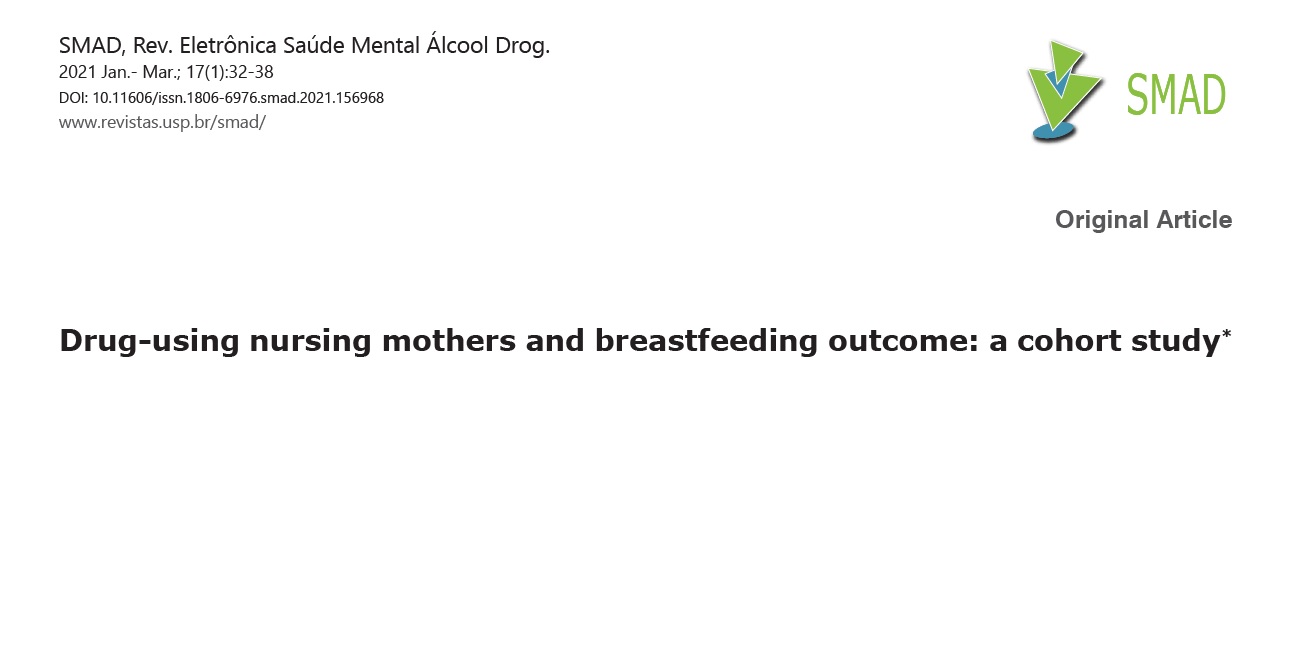 Drug-using nursing mothers and breastfeeding outcome: a cohort-study.
Published in: Saúde Mental, Alchool e Drogas (Portuguese translation: Mental health, alcohol and drugs).
By: Ribeiro, S, & Fernandes, R. 2021
WHAT WAS THE STUDY ABOUT?
The aim of this study was to assess the association between substance use and the duration of exclusive breastfeeding among (24-48 hr) post-partum women at risk of substance use disorders.
WHAT DID THEY DO?
The investigators identified one hundred and eight (108) women who identified as having used either licit (alcohol or tobacco) or illicit drugs in the past. The women were recruited from an inpatient service attached to a Hospital in Sao Paolo (Brazil) that caters to women who have substance use issues. The women in this particular study were in the early puerperium phase (24-48 hours postpartum) and were currently breastfeeding. The researchers then screened these women for their substance use risk using the ASSIST, and followed them across a 30-day time period, screening them again using the ASSIST at days 7, 15, and 30.
WHAT DID THEY FIND?
The investigators demonstrated empirically that moderate risk tobacco, and high risk alcohol scores were associated with shorter duration of exclusive breastfeeding. Specifically, compared to women who did not smoke tobacco, women who rated as moderately risky on the ASSIST for tobacco were 6.6 times more likely to discontinue breastfeeding. Similarly, compared to women who did not drink alcohol, women with ASSIST alcohol ratings of high risk were 11 times more likely to discontinue breastfeeding. There were not enough data to determine whether there was a change in risk for discontinued breastfeeding among women who used illicit substances.
IN THE AUTHORS WORDS:
"The monitoring of the breastfeeding continuity of the mothers that composed the sample identified a mean length of exclusive breastfeeding (EBF) of 28.8 days. Considering that the follow-up took place up to the 30th day, this is an important result considering that the national survey on BF of children aged 0 to 6 months identified a median of 54.1 days of EBF."
WHAT DO WE LIKE ABOUT THIS RESEARCH?
This research demonstrates empirically, through longitudinal means that risky substance use behavior and breastfeeding are incompatible. This research also serves as a useful reminder that NHMRC have released their latest low-risk drinking guidelines, which explicitly state that for women who are planning to, or are already pregnant, no level of alcohol consumption is safe. This study provides a clear argument for why. In fact the authors point out similar recommendations from the Brazilian Society of Pediatrics:
"The Brazilian Society of Pediatrics, in its classification of substance use risk during lactation, considers nicotine as possibly compatible with lactation, alcohol as possibly dangerous and other drugs such as marijuana, cocaine, crack and methamphetamine as dangerous, however, explicitly recommends that mothers that regularly make abusive use of drugs should not breastfeed their children. For occasional users, it suggests the suspension of breastfeeding for a variable time according to the drug consumed"
WHAT OPPORTUNITIES DOES THIS RESEARCH PRESENT?
One of the primary limitations with this research is the under-powered analyses. According to Table 1, only 1 participant rated alcohol consumption at high-risk levels. This was reflected in the 95% CI surrounding the risk ratio of discontinued breastfeeding. Though risk was 11 times greater, the 95% CI was impractically wide (1.3–94.7). The researchers were also unable to determine whether cocaine or cannabis use were associated with discontinuation of breastfeeding (though there were participants who identified as high-risk at baseline). Overall, this study probably raises more questions than it answers, but it serves as a useful reminder that consumption of drugs, whether licit or illicit is likely to influence the quality and duration of breastfeeding. Therefore any use can carry the risk of harm to the baby, both immediately through intoxication, but also delayed, through the second-order risks associated with sub-optimal breastfeeding behavior.
Reminder, the latest NHMRC guidelines indicate that no level of alcohol consumption during breastfeeding or pregnancy is safe for babies. Visit the full report for more information.
For more information about the risks and harms of substance in general, visit our Portal 
If you are pregnant or planning to get pregnant, but want to know more about how to reduce your consumption of alcohol or tobacco, or illicit drugs, visit our consumer website, ASSIST Plus for more information and support:
Click here to read the full report.