RESEARCH SPOTLIGHT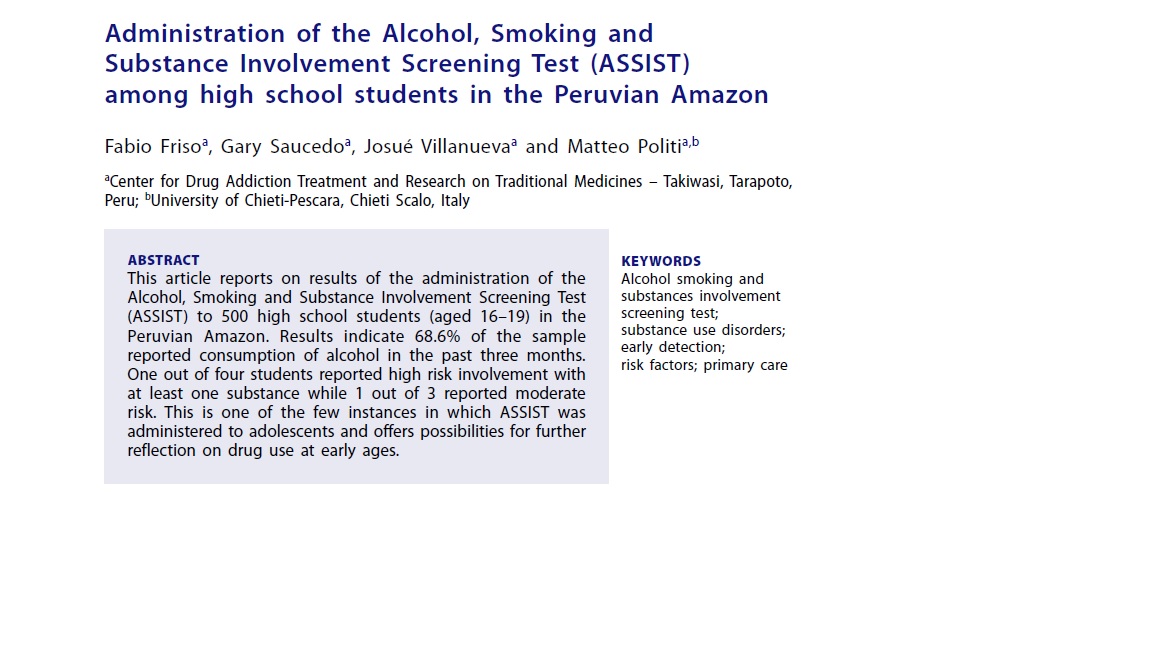 Administration of the Alcohol, Smoking and Substance Involvement Screening Test (ASSIST) among high school students in the Peruvian Amazon.
Journal of Ethnicity in Substance Abuse
By: Friso et al., 2021
WHAT WAS THE STUDY ABOUT?
In some areas of Peru, drug use has, and continues to present a significant challenge among young people, due in part to trafficking and civil unrest, and drug availability in certain areas. This is particularly relevant in the Amazon region. The aim of this study therefore was to assess the substance use characteristics of a subset of high-school adolescents in the region.
WHAT DID THEY DO?
The researchers identified 500 individuals of high-school age from three local high schools, and invited them to complete the ASSIST questionnaire. The sample were aged between 16 and 19, and included slight majority female (55%). All participants were asked to complete the ASSIST, and then risk ratings on single and polydrug use were compared.
WHAT DID THEY FIND?
Overall, the patterns of drug use found in the present study are somewhat comparable to Australia and other developed regions. In terms of highest level of risk, 28% reported no substance use, 20% reported low risk, 32% moderate, and 22% high. In terms of recent use, almost 70% of participants reportedly consumed alcohol, 8% had smoked cannabis, and 4% had consumed cocaine, and 7% inhalants and sedatives. Males tended to consume at higher risk levels on most substances, though there were no differences between adolescents using more than one substance at high-risk levels. Overall, 26% reported moderate- or high-risk for a single substance, and 29% rated moderate- or high-risk for more than one substance. Though exploratory in design, this study presents a useful picture of drug use patterns among younger people in lower SES regions, but also demonstrates the need for screening of substances other than alcohol and tobacco among young people.
IN THE AUTHORS WORDS:
"Taking into account that when people start using drugs at a very young age they show greater health risks, we consider necessary to improve the efficacy of prevention programs. The ASSIST screening test seems to be an efficient tool to detect early drug consumption and its use should be promoted as part of interventions that aim at providing an adequate handling of the risks related to the consumption of substances before this consumption becomes an established medical condition"
WHAT DO WE LIKE ABOUT THIS RESEARCH?
As the authors point out, this is one of the rare instances in which this instrument was administered to teenagers (mostly 16–17 years old), and therefore provides some further empirical support for the ASSIST among younger populations. However, it should be noted that the ASSIST has previously been validated for self-completion among younger child (10-14 years) and adolescent (15-17 years) populations. You can access those instruments here
This research is also useful because it raises awareness of the importance for newer approaches to screening for drug use – particularly in the context of new and emerging psycho-stimulants. While alcohol and tobacco are a common feature of drug use behaviours worldwide, individuals at increasingly younger ages are gaining access to illicit drugs – not only in Amazonian Peru – but also in Australia as well. While screening tools such as AUDIT and DUDIT might be useful in some contexts, they do not adequately capture the entire spectrum of drugs and drug classes in the way that ASSIST does, nor do they provide the framework for a targeted brief intervention.
WHAT OPPORTUNITIES DOES THIS RESEARCH PRESENT?
This study was cross-sectional and exploratory in nature, and therefore we can only derive some limited conclusions from it; one must be careful not to overreach. However, one of the opportunities that is clear from this research is the need to also assess the effectiveness of the linked brief intervention among these younger people. It is unclear whether individuals in this study were given a brief intervention based on their substance use. Future research might investigate this possibility, as well as following those individuals up over the coming months. There are specific challenges that clinicians and healthcare workers must face when dealing with the substance use of younger people, including challenges around the duty of care and disclosure. Fortunately, many of these challenges are addressed in our latest instructional manuals for youth populations. Future research should consider using the ASSIST-Y when assessing the substance use characteristics of young people and adolescents.
If you would like to know more about screening, brief intervention and referral to treatment and how we might be able to assist your workforce in developing the skills and capacity to deal with substance use disorders, visit our Portal
If you have young patients that use substances, and want to know where to send them for more information, you can ask them to visit our consumer website
While there, they can also download our free smartphone apps to keep track of their substance use, and find important tips and tricks about cutting down and quitting.
You can read the full report of trial study here